Why unlocking ECM is critical to your Enterprise 2.0 execution plan
If you're a large organization using enterprise content management systems (ECM), chances are that its powering images, documents and records management, and web content. These systems enforce roles, workflows, access control and versioning to enable the creation, management and dissemination of media assets.
What this means is that from the very beginning of a given business activity, a few people control the creation of information that employees, customers, partners and suppliers rely on to move your business forward. Like it or not, this puts the responsibility/power to influence business performance in the hands of a few, with little input from other unknown experts, or consumers of this data. You only find out how effective the content turned out to be once its consumed (and long after you can optimize).
I've spent a decade working with business units at large organizations designing global communication and collaborative initiatives in the areas of sales and marketing, employee comms, channel collaboration and brand management. But I wanted an outside perspective. So i reached out to Billy Cripe, co-author of Reshaping your Business with Web 2.0 and Director of Product Management in Oracle's Enterprise Content Management Group. An Enterprise 2.0 advocate himself, Billy brings a unique perspective given that he focuses on understanding how social computing blends with existing enterprise content management – something that many medium to large organizations are going to have to deal with if they buy into the design and promise of Enterprise 2.0. All control is not good but all social is certainly not always optimal. That's an important part of any E2.0 execution plan.
Achieving a state of Enterprise 2.0 requires surgically moving the nucleus of a business activity from process driven systems to people centric environments. I asked Billy to identify 3 inefficiencies in traditional content management processes that impede business performance, where social computing can help: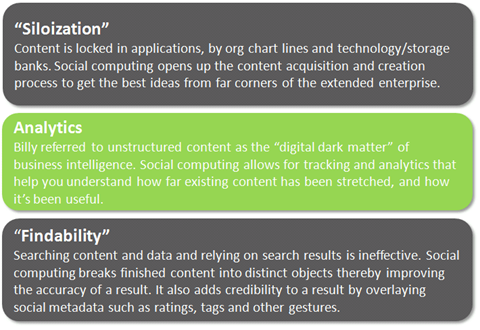 Wrapping the best brains around the problem
Billy and I also talked about how Enterprise 2.0 enabled organizations will blend social computing and structured process by turning siloed unstructured content into 'social objects' early on in the process. For instance, instead of using traditional access control-heavy CMS workflow when working on early drafts of marketing collateral for a product launch, or market projections for a new line of business, a wiki – style environment opens up discussions around early drafts to more constituencies before the owner moves this into formal production. Social networking features enable you do discover 'experts' and invite them to contribute. Micro blogging concepts make your business activity noticeable across the organization so others can be aware of where they can help. In addition to refining the end product, think of the risk you can mitigate by having the right voices pipe in, early on. Examples of early collaboration include:
Early feedback on product specs from loyal customers before you lock feature sets.
Deeper understanding of product strengths from supply chain partners that intimately know the power of each component in your product.
Feedback from channel partners that might be critical to meaningful distribution and adoption, post launch.
Getting previously unknown subject matter experts in distributed organizations to provide insight on an RFP response.
Leveraging the signals: A contact center rep gets to peer into community content or find experts to support sometimes bland one-dimensional answers coming from the knowledge base or ERP system.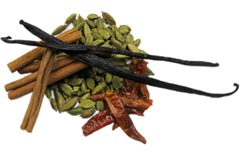 When you layer in social computing concepts at the early stages of content creation, you have the ability to encourage such uses of raw ingredients (or social objects). These social objects, previously hidden in an access controlled CMS environment are now unlocked via social computing concepts and tools. The beauty is that they can now be work in progress for some, finished product for others that participate or discover it, or can be interpreted in totally different ways, never intended by the original participants.
Does Your Content have legs?
Analytics gained via social computing architectures fold in accountability and measurement at the social object level as well as the meta-data (rankings, ratings, tags etc) on each content type. This enables you to learn if/how content is being used to truly accelerate business performance. What types of content are highly rated or most re-used, what business activity was most impacted by specific social objects? The business of creating and managing content (and budget) is often a "black hole" at large organizations. Social computing analytics let you measure the value of each building block (and the programs that create them) so you know which horse(s) to back, going forward.
Important Execution Elements to Consider
In no way do I want to imply that just throwing in a social suite will make this work model a reality. It won't. A couple of important considerations:
This is not about a more effective content management process. Its got to do with strategically using social concepts to change how your organization collectively creates, vets and leverages content.
Design processes and select applications that can accelerate business activity. If you start with "I need a new content management strategy", you're likely off to a wrong start. If your thinking about say how to improve sales close rates by better alignment between sales and marketing content, you're approaching the problem correctly.
Make participation available but surgically enforce controls where needed.
To ensure adoption and mitigate risk, check whether you've answered the "what's in it for me" question before you expect partners, employees, organizational departments or customers to jump in and play.
Vendors may call their offerings platforms, solutions, whatever. At the end of the day these are tools. Lead with the inherent business performance goals that should govern any potential Enterprise 2.0 organizational design and work backwards to figure out the right platform or best of breed solutions architecture.
Vendors Moves
ECM technology offerings are going to morph at a phenomenal rate over the next 6 months. Some will bring social computing to ECM. Others will wrap Social Computing and ECM around ERP. Oracle is making very commendable moves by fusing its ECM, Portal and Social Offerings. OpenText is also going back to the drawing board (interview by Cheryl McKinnon) on what content management means in the socially connected enterprise. And Acquia is bringing an industrial strength offering to businesses, based on its hugely successful Drupal open source CMS offering. More on OpenText and Acquia in subsequent posts.
I'd like to close with a special thanks to Billy for taking the time to chat.  He was very careful to disclaim that his lens might be slanted towards incumbent content management processes.  In fact that's exactly what I was looking for, so we could provide value to thousands of large organizations that have heavily invested in some formal content management process.
Subscribe to this Blog via Email
---
Post Details