The E 2.0 Service 'Appliance': Hinchcliffe and Co., Asuret and Socialtext get into bed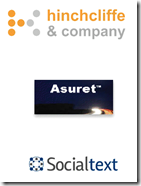 This morning brings a new relationship in the Enterprise 2.0 Services arena: Hinchcliffe and Co, an enterprise 'web 2.0' consulting and education provider, Asuret, an enterprise risk mitigation software and services provider and Socialtext, a social software provider join forces to deliver the first stack of services and software to take organizations through planning and technical implementation of social software projects.
Together, this alliance is set up to offer requirements and technical design, the necessary project risk management levers and finally, a well respected software suite to bring it all to life. Coming out at the customer end are solutions for social collaboration, intranet redesigns, customer communities, corporate social media, Social CRM and finally Business and Industry Social Networks.
As seen in the diagram below, the overall stack of service covers includes architecture and design, technology selection and application, as well as project management.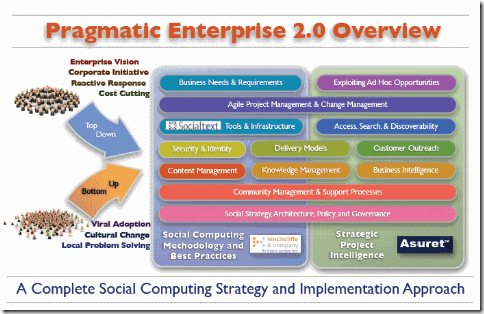 To compliment methodology and implementation experience brought about by Hinchcliffe and Co., the Asuret software + consulting service offers project risk management methodologies and processes to identify pressure points that can derail engagements in areas of stakeholder alignment, executive sponsorship, project management, business case and the like.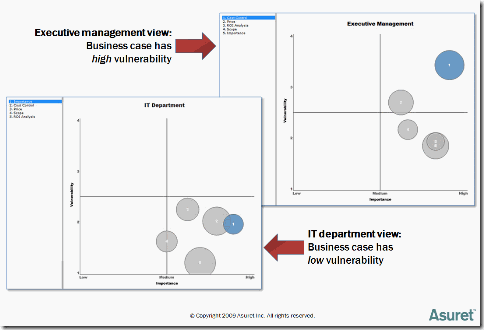 The promise of this alliance centers on the reality that in many cases adoption of Enterprise 2.0 tools today is low and that most organizations are still learning the social computing ropes. Moreover, as with any large scale IT project, social computing engagements also face skepticism around the management of risk, control and trust. The group plans to bring structured methodologies, risk management tools and with Socialtext, mature social computing software package to holistically deploy social software solutions.
There's certainly a place for such a partnership where IT is looking for strategic technology services combined with mature social technology. The IT manager has been severely burnt in the past due to lack of a comprehensive program management methodology and ineffective risk mitigation controls. Both led to more delays and consulting change orders than she would like to remember. This alliance of course has to prove that it has the execution wherewithal to get business results and reduce project risk but as far as a framework goes, it's clear that a lot of careful thinking has gone into the design of this service set. Oh and there are some very smart folks involved here so there's no reason to doubt their ability to pull it off.
Another thing I particularly liked is the implicit acknowledgment that social transformation doesn't always mean throwing out incumbent process and technology whole hog, in favor of social. The answer lies within a balance of best in process-laden technology (e.g. CMS) and new open constructs. As seen in the diagram above, this partnership is designed to help customers leverage existing investments in content and knowledge management and business intelligence and fold in social computing, where applicable.
The Enterprise 2.0 services market is beginning to take shape but is still very young. At this time, the 'E2.0' discussions that command the airwaves are taking place primarily at 2 levels: 1) Ten thousand feet above the customers head and 2) deep down in the trenches around tactical tool selection and post deployment adoption. Both important in their own right. However, there's plenty of room between these two for alternate value propositions. This alliance serves as a credible option for many of those projects in the middle, especially ones that are spearheaded by the IT department.
I'm personally excited to see this alliance enter the 'Enterprise 2.0' services space. We can't have a market without a marketplace so the more credible service providers that surface, the better for customers and the ecosystem in general. Congrats to all involved.
Here's the official statement and some good write ups by CRM champs Paul Greenberg and Esteban Kolsky.
Disclaimer: Dion Hinchcliffe and I both serve on the advisory board of the Enterprise 2.0 conference.
Subscribe to this Blog via Email
---
Posted On: October 20, 2009
Posted In:
Post Details