Enterprise 2.0 Software: Commoditization before Monetization
That's a comment that one of the leading Enterprise 2.0 vendors made to me recently.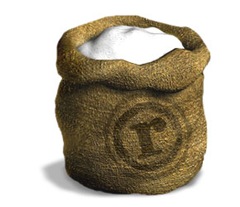 This morning, Socialcast, provider of a micro-messaging platform announced that it's moving to a 'free-mium' model. Meaning, get all the user and administrative features for free, regardless of company size or usage needs. For those of you not familiar with Socialcast, it a micro messaging platform that enables collaboration and sharing by unlocking discussions from closed email into an open environment. What started off as Twitter for the enterprise now looks more like Friendfeed for the enterprise – a model that I think has significant promise for the enterprise. The product used to be about $1 per user per month and is now completely free to use and administer. Socialcast plans to make money by enterprise deployments and charging for premium services such as directory integration, analytics and consulting.
TechCrunch thinks that there won't be a need for paid services. I can't disagree more but that's another post. ReadWriteWeb believes "there will certainly be large government and enterprise customers who require self-hosting and consulting services."
So the real question for me is: Are we on the path to super sonic commoditazion in the Enterprise 2.0 market before even a single vendor has truly broken out & dominated the space?
Some History
In the early days of Enterprise 2.0, the market was crowded with Wiki providers, many of whom painfully realized that the commercial market was too crowded and that the likes of Media Wiki (the free software that is used to power Wikipedia) made it increasingly difficult to charge for Wiki based products. Moreover, making a scalable business case from using a pure play wiki product was an increasingly difficult way to get the kinds of market valuations that a venture capitalist expected.
Enterprise Wiki, tagging, RSS and bookmarking providers quickly re-cast their solutions from Wikipedia and Delicious for the enterprise to Facebook for the enterprise providing rich social networking features, user profiles, blogging capabilities and the like. That market saw changes in dynamics as well, thanks to a very crowded and increasingly indistinguishable offering set, coupled with constant pressure from open source/ free forum offerings. See what BestBuy achieved with Drupal for instance.
Today
The next wave of differentiation amongst Enterprise 2.0 providers was going to be based on content creation as well as smart aggregation, fueled by micro-messaging, integration, aggregation, activity streams and the concept of the real time enterprise. Whilst this phase of evolution shows great promise, its also an area that's going to require serious data integration to ensure that you can truly fold in data and content or surface intelligence from anywhere. Not just from the base social computing applications in your suite (user profiles, workspaces and wikis, etc) but also from third party internal and external systems in the enterprise such as LinkedIn and Salesforce.
Where this notion of commoditization before monetization further crystallized in my mind was when I read the announcement of Google Wave – "a new tool for communication and collaboration on the web, coming later this year".
With Wave, Google is offering a real time messaging and activity stream platform that developers can use to create applications or amp up existing offerings. Its still early and unproven and will probably only work for SaaS offerings. But if it delivers on its promise, its a ridiculously more sophisticated incarnation of what Enterprise 2.0 vendors have spent a huge portion of their development budget on, for the last 12 months. Thanks to Google, it's now available as a platform technology, for anyone to leverage. Ouch.
Going Forward
So assuming that the software stack continues down this path to commoditization, what's left to make money on? Directory Integration? Application Integration? Change Management Consulting?
That might work for Socialcast given that its backed by True Ventures, the experts in realizing ungodly valuations from open source / free services (True Ventures is the backer of Automattic, the makers of WordPress. 'nuff said). But how is that going to play out for other venture backed firms that have no interest in valuations that a services business generally commands.
I see 3 areas:
Maybe we will see more business models similar to what Alfresco or Acquia have, where there's a commercial alternative to a base open source platform.
Or we will in fact start to see competition based on which software vendor can help organizations move into an Enterprise 2.0 design by focusing on specific business processes. That's something that goes far far beyond selecting and deploying a social computing tool set. I know personally that SocialText, Jive Software, Newsgator and Traction Software are taking this seriously. I'm sure there are others.
Analytics based monetization. There's tremendous value in knowing what programs and efforts generate content and knowledge that helps the organization accelerate performance. Social computing breaks this information down in ways that were not possible before. There's tangible value in business intelligence as a way to improve operational efficiency.
BTW, there is another lesson to be learned from all of this. Guess which class of Enterprise 2.0 vendors will read this post and simply shrug off my assertion? Those that are fixing known functional business problems such as customer service, sales acceleration, marketing intelligence and the like. They have a defined customer and a defined set of business problems that they fix (and as important, don't fix), a known integration road map and a defined competitive landscape to navigate.
I can't think of another time in the history of software or another area of enterprise software that has seen commoditization emerge so quickly in its evolution.
How do you think the Enterprise 2.0 market will shake out?
Subscribe to this Blog via Email
---
Tags:
Posted On: June 17, 2009
Posted In:
SVP, Enterprise Social and Collaborative Software, SAP
Post Details