Don't confuse Enterprise 2.0 with social computing concepts
Earlier this week, a post by Thomas Vanderwal on Microsoft SharePoint 2007 caught fire on Twitter and a few blogs. What started as a spirited discussion on whether Sharepoint is a respectable Enterprise 2.0 offering or not, quickly turned into a debate on Enterprise 2.0 definitions. Mike Gotta masterfully jumped in front of  the parade and steered it hard right, questioning whether Enterprise 2.0 is even a category or a rather, a philosophy around the use of social computing within existing business processes. With due respect to Forrester, I'm convinced it's the latter.
In preparation for a meeting with an old client next week about social computing and the opportunities it presents for lead generation and sales operations, this discussion could not have been more timely for me. Here's how I see it:
These are social computing concepts. Not Enterprise 2.0.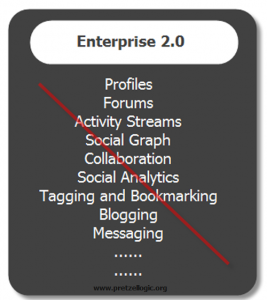 Enterprise 2.0 is a state that Enterprises achieve by employing an appropriate set of social computing concepts.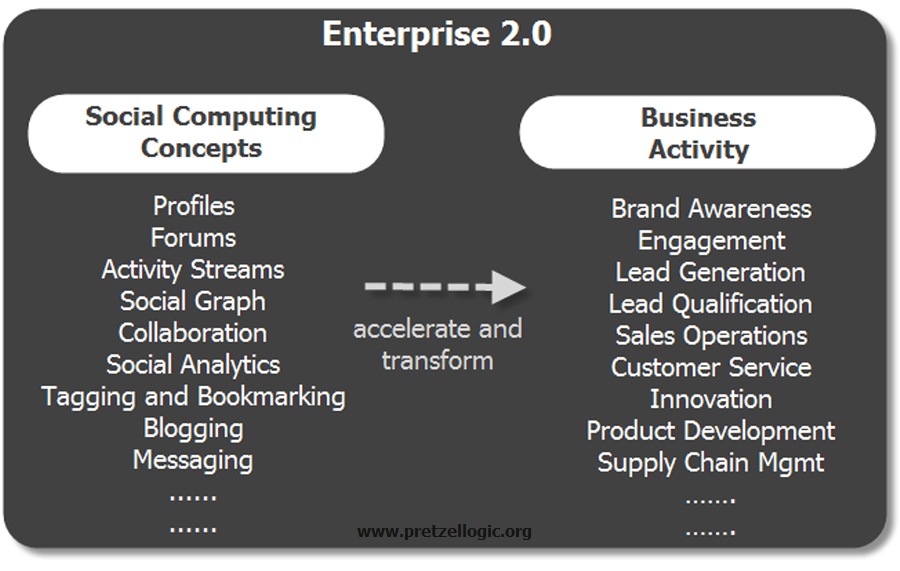 The promise of transforming to a next generation enterprise (2.0) involves enhancing or even ripping apart traditional processes by leveraging social concepts, to accelerate performance. Organizations do that by starting simple and applying social computing concepts carefully on a process by process basis. As basic as this message is, it's clear that it bears repeating given the lengths Mike had to go to, to make his point.
To me, the unsung heroes of Enterprise 2.0 are the vertical offerings providers that eat/drink/sleep solutions to specific business problems, everyday. These solution providers get plenty of coverage but surprisingly, almost zero credit for the role they play in transforming their customers into Enterprise 2.0 structures. This is hardly exhaustive but here are some examples:
Lead Management: InsideView helps sales reps qualify and accelerate the sales cycle by folding in relevant structured social data from LinkedIn and Facebook, based on leads in Salesforce. The service helps you call the right lead at the right time and accelerate the sales cycle. That's it.
Viral Marketing: Appirio's referral management solution helps you find leads by connecting campaigns entered in Salesforce to connections on your organizations Facebook fan pages and with employees friends and contacts. Appirio brings more qualified leads using Facebook user profile data to campaigns.
Product Development: UserVoice, and Salesforce Ideas remove risk from product development processes and drive innovation by enabling you to 'crowd source' features and product designs before you spend gazillions designing and developing solutions.  One objective – innovate via social leverage.
Customer Service: GetSatisfaction improves the quality of customer service and cuts costs by letting users help each other.
Brand Management: Radian6 and Visible Technologies keep brand marketers informed about market sentiment regarding their products and organization.
I could go on and on.
It would be unfair to imply that so called Enterprise 2.0 vendors are doing nothing in this area.  For instance, Telligent, Jive Software, Lithum and others have customer facing offerings designed to help enterprises generate brand awareness, engage with prospects and customers and surface important analytical data. Newsgator offers social widgets help distribute and monetize content for media companies.
Does that mean horizontal platform solutions, especially those that are behind the firewall are a lost cause? Absolutely not. There's 'massive' opportunity for these solutions to rally around specific business processes and design versions of their products to accelerate and transform specific internal tasks. There's billions locked up in Supply Chain, Product Development, Retail/POS etc., that represent a mammoth opportunity for social computing technologies. Emulating the portal business of the 90s and sticking to a horizontal solution would be tragic, in my opnion.
The truth is that IBM, Oracle, SAP, et al dominate systems that enable business activity. That said, in my opinion, social computing concepts represent the first opportunity in two decades to successfully move the nucleus of business process management from structured, data centric ERP systems, over to people centric platforms that break silos and artificial firewalls in the enterprise. That entails strategically unleashing social computing on each of these processes and owning the environment where significant improvements in business performance are realized.
Subscribe to this Blog via Email
---
Posted On: March 13, 2009
Posted In:
Post Details