As some of you heard (many thanks for the notes), I've joined the Defrag Conference Advisory Board.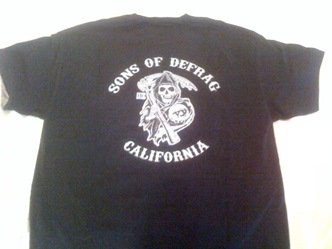 For those of you who are not familiar with the conference, Defrag is a yearly event in Denver that's focused on emerging tools and trends in technology and its' impact on business.
The conference is organized by Phil Becker, Brad Feld and Eric Norlin and counts Roger Ehrenberg, Paul Kedrosky, Jerry Michalski and Chris Shipley as advisors.
Here's how I described the conference in a recent post:
———————————————————————-
The Five Fragments That Make Up Defrag:
I'm going to spare you a diatribe on why its a great event and distill it down to five reasons, (or fragments) that make me go back and why this an awesome event for the enterprise folks out there:
Its about debating solutions to big big business and economic value challenges that will consume us all over the next 12-24 months. That applies to the buy-side as well as the sell side.
Its about the ramifications of eventual large scale adoption of a lot of what a serious IT executive will deem to be well, "cutesy" ideas today (e.g. Real Time Enterprise).
A cut to the chase discussion on which consumer trends we see and use today might one day be enterprise worthy. Remember when people laughed at the concept of 'Facebook for the Enterprise'? Yep, that probably came up at Defrag two events ago.
Little talk-to-the-crowd panels. Everyone is deemed to be intelligent and has an equal voice. You'll spend more time talking to the person sitting next to you than you will listening to someone on stage. Guaranteed.
Its frightfully practical stuff. No fluff. All actionable thinking that makes you look at work differently when you leave. And makes you want to come right back the next year.
————————————————————————–
A little about the conference in the words of Eric Norlin, the organizer:
Defrag is the first conference focused solely on the tools and technologies that are leveraging the "social" aspect of software to accelerate the "aha" moment. Defrag is not a version number. Rather it's a gathering place for the growing community of implementers, users, builders and thinkers that are working on the next wave of software innovation.
Thanks to Eric for reaching out. Looking forward to a great event!
P.S If you're a fan of Sons of Anarchy on FX, you'll get what that T-Shirt is all about -)