Here's a screen shot of a Twitter search result for a blog post labeled "Four Reasons Why Enterprise 2.0 Communities Fail"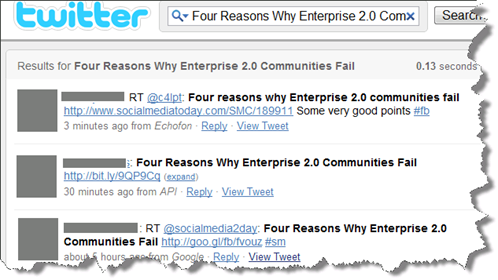 Over 60 Re-Tweets on Twitter as of April 19th resulting in god knows how many tens of thousands of impressions on Twitter. Yay for social media syndication.
There's only one problem. That link hasn't worked for three days.

So, basically, this link was never even clicked on before being re-tweeted.
Now these good intentioned folks may have well wanted to read the link later and I'm no one to judge how each of us as participants choose to use the medium. But if Re-Tweets are being considered an acknowledgment of quality content and subsequently relied upon as a metric by marketers, a Re-Tweet itself can clearly be a terrible measure.
I'm a huge advocate for social media engagement as an important component of marketing. It's got mucho potential. That said, we complain about inaccurate open or click through rates with respect to email marketing but measuring the effectiveness and true reach of social media has a long long way to go as well.
So if a link drops on Twitter but there was nothing there to read, will it make a sound? You betcha. A really really loud, albeit hollow sound.
Hoping practical topics such as this come up at the 140 conference today.