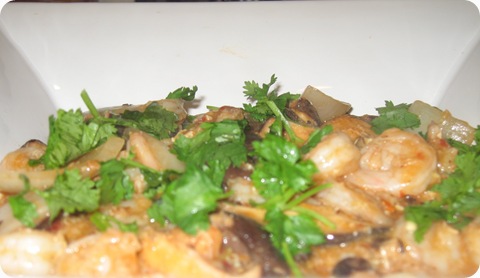 Vinnie Mirchandani of deal architect fame graciously invited me to contribute to his guest column 'Technology and Hobby' on his New Florence New Renaissance Blog. This very popular column covers the hobbies of some of the heavy hitters in the technology business with a focus on the role of tech.
Some of folks who write about Social Computing / Enterprise 2.0 that you might recognize are Oliver Marks (Restoring Cars),  Ray Wang (Vinyl DJ), Dennis Howlett (Home Brewing), Michael Krigsman (Photography) and Bob Warfield (Hot-Rodding, etc).
No surprise to most who know me that I chose to write about the culinary craft. For me, there's always been a parallel to be drawn between crafting strategy and execution plans, and the constructing of a perfect dish.
The photo above is my very amateur photography attempt at capturing a pic of Chili and Fermented Black Bean Prawns that I made last week, for my visiting parents.
I had a blast writing it up. Here's the full post to see another side of me on Vinnie's blog. -)