Oracle OpenWorld 10: Enterprise 2.0 In Fusion
Ever since I started blogging about the work we do around collaboration and strategic use of enterprise social software, I've long advocated for purpose built, in context use of social constructs to make a meaningful impact on business performance. One one hand, Enterprise 2.0 – the value proposition and enabling software began its journey as a stand alone solution trying to unseat Microsoft SharePoint. Most vendors have begun to focus on contextual use cases centered on business process or via ERP and CRM process integration, to surgically enhance specific outcomes. Be those CRM via PBWorks, Crowdsourced Innovation via Spigit, Supplier Management Via RollStream, and the like.
Coming at it from the other end,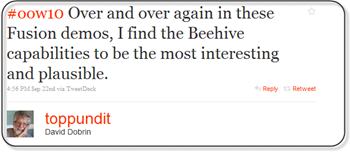 Enterprise Resource Planning Applications, Supply Chain Optimization Apps or Customer Relationship Management Apps – the BIG systems of record at larger enterprises, have seen little business process innovation in the last decade. Most of the innovation has been on the infrastructure and delivery end of the stack or feature updates. On Premise to Cloud based services, Feature Release X to Release Y, In Memory Databases and Applications for faster throughput and access. Significant benefits to IT and to the end user from this, no doubt, but more to do with convenience and evolutionary improvement, as opposed to objective re-thinking on how to best execute a given business activity, today.
Injecting Social at the Source with Fusion
What we haven't really seen is back to the drawing board innovation on business process design. Over the last decade we've mistakenly begun to believe that the best way to execute a given business activity is synonymous with how our ERP systems enforced our way of work. Ever since the wide scale adoption of ERP applications, largely thanks to the Y2K hoax, we've been judiciously streamlining process in black and white. Ensuring that every application has a Submit and a Cancel Button. Commit your decision now, or roll back. Choose now and forever hold your peace.
Decisions are not always black and white in the Enterprise context. To me, the ultimate promise of social computing lies in improved process execution outcomes. What I've been looking for is an in-context and even onscreen utility inside enterprise process apps that helps you answer: "I'm not sure" OR "What's the best selection from that dropdown menu" OR "Who knows more about this than I?" OR "Can I first take a vote from a few smarty pants before I commit, please?
Oracles ECM, HCM Fusion and OnTrack applications offer a sneak peak into how this might work in the future. The core of the application centers on 4 questions, as seen in the screenshot above. And in a visually appealing way.
I spent hours away from the pitches and deep in the demo pits working through a ton of applications from Fusion HCM to CRM to SCM and on and on. I'm not going to go into the details here but in a nutshell – your social network is one click away. Whilst I would hardly call this deep collaboration in its' truest sense, there's built-in rich profiles inside ERP apps tied to Roles and Identity Management. Enabling me to find expertise and people based on skills and interests, click a button to chat, add people to my contacts or my social network and even initiate a VOIP call.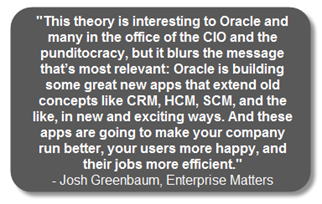 In general, engagement metaphors are applied with different doses across the Fusion portfolio. The Fusion HCM  and CRM applications have more of what most would consider collaboration but most of the other apps have in context social networking. The purist Enterprise 2.0 or Social CRM thinker would balk such minimal functionality and I think they would be correct. In fact, al lot of it isn't even new. But the kicker is that it's in context, at the source of the problem, at the fork in the road. And that's what makes it valuable. The chances of you needing to talk to someone or get answers quickly makes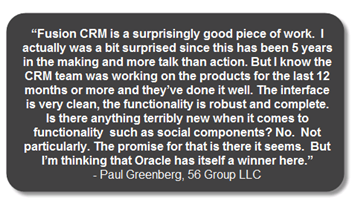 Unified Communications – type functionality + rich profiles more of a priority than the whole enterprise 2.0 stack (wikis, communities, document access etc). The key word is priority though – there's lots here that is missing and needs to be dealt with – supplier and partner communities, document collaboration, for starters.
Why No Balloons and Confetti?
What was puzzling to many was that Larry Ellison did not come out thumping his chest when introducing Fusion. Using phrases such as "God Bless You if you do so" doesn't exactly inspire confidence.
I suspect it's a combination of things:
First, as people like Dennis Howlett suspect, it's not ready for large scale adoption; just for a controlled GA for now.
Second, Oracle is facing heat in the market. When the keynote names names – Workday, SuccessFactors, Taleo, you know something's up. For relevancy sake, it needs to tout innovation at the same pace as the rest of the market.
Third, and most likely in my mind though not mutually exclusive: Fusion can truly be an enormous undertaking for any enterprise. Oracle is legendary for executing for where the proverbial puck is and surgically moving to where it will be closer to mainstream acceptance. Either by buying its way there and sometimes by innovation. But never at the cost of revenues the next few quarters out. I suspect its pipeline is looking fine for now and there's no financial reason to fall for the innovators dilemma and confuse the market.
Oracle ECM
On the ECM side, there's extensive use of SOA that allows pulling in analytical and other data as social objects from business applications to comment and collaborate on. Oracles view of Enterprise 2.0 seems to be closer to traditional ECM + Activity Streams + SOA based access to structured data. Very different from the traditional wiki + social network + micro blogging combo that's come to be known as a complete Enterprise 2.0 suite.
In his keynote, Larry talked about how different middle ware groups at Oracle had to shed their differences and collaborate on a single middleware offering. I strongly suggest the same happen in on the ECM and Enterprise Social Networking side of the house. It's going to get really confusing really fast for customers when they see social capabilities peppered across ECM, UC inside ERP apps and standalone products such as OnTrack (more below). Whilst they seem to be serving different purposes, organizations still need a single collaborative backbone for all its interactions. The Spaces product seems to be a great foundational home for these solutions as long as they can be offered in a modular way.
Talking about Spaces, the product has good social networking capabilities inside the ECM suite and good extensibility, out of the box. For instance, integration with Microsoft outlook to take long threaded email conversations and turn it into message boards instantly in nifty, good collaboration on documents inside the CMS system, and social networking hooks to other non Oracle collaboration systems.
On Track:
It's still in the oven, but OnTrack looks to be pretty slick and was without a doubt my favorite 'enterprise gadget' demo at the event. As much as we hate to use the Facebook for the Enterprise metaphor, its just that – a simple to understand connection and conversation facilitation hub, with enterprise context built in. To draw comparisons, it reminds me more of a purpose built GoogleWave (RIP) and StreamWorks from SAP than it does mature activity stream offerings from Socialcast, Socialtext or Newsgator. Designed to be purpose built around 'conversations' as the primary social object, it works as a central engagement utility in the enterprise that can be triggered from anywhere – natively or (soon) from other applications. With light collaboration features such as annotation on digital assets, business intelligence integration, support for voice and video, and integration into various Oracle Apps it offers a solid 2010 design for unified communications. I'd love to know if it comes with an API so if anyone from Oracle knows, please chime in.
Closing Thoughts:
All up, the event was a good one. There was too much lots of focus on the Cloud. In a box. But taller than a Human. The depth in the sessions made up for the sometimes rocky keynotes, with folks such as Steve Miranda doing a solid job balancing pitch and customer analogies when giving an overview on Fusion. For my part, the demos by knowledgeable product mangers gave me deep, marketing-free, insight into many products.
Was this breakthrough innovation on the Enterprise 2.0 front? Not by a long shot. But its engagement in context and that's a huge leap forward in the ERP space. As I've said before, the thing we often forget when pontificating about enterprise software innovation is that buyers don't buy best, they buy 'good enough'. And so whilst the race is partly about out innovating the competition, it has as much to do with execution. And part of that depends on who has the deepest tentacles inside the customer base, whether directly or via a channel ecosystem.
Whilst Oracle is late to the enterprise social party when compared to stand alone Enterprise 2.0 and Social CRM vendors, it pacing very well when compared to other ERP vendors. With that in mind, a lot of the social and collaboration innovation seen here will ultimately get into the hands of it's large installed base.
In addition to the posts I've linked to here, here are other must read articles that I've seen thus far:
Thomas Wailgum: Oracle OpenWorld 2010: 10 Buzzwords to Know, Love and Hate
Brandon Bailey – Ellison closes Oracle OpenWorld: 'More new technology'
Robert Falerta – What's Larry Ellison Thinking About The Indirect Sales Channel?
Mike Fauscette – Oracle OpenWorld 2010 – The Recap (good screenshots)
Next Up – what this all means for the rest of the Enterprise 2.0 landscape.
Subscribe to this Blog via Email
---
Tags:
Posted On: September 24, 2010
SVP, Enterprise Social and Collaborative Software, SAP
Post Details