SAPPHIRE 2010: SAP embraces People, By Design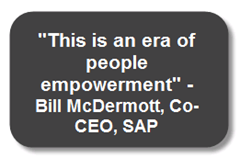 That's a quote from Bill McDermott, Co-CEO of SAP on the keynote stage. A message from SAP's leadership to over 50,000 customers, employees and partners worldwide.
As I travelled back to Palo Alto last night from SAPPHIRE 2010, the central theme came clear to me: SAPs re-focus centers on leveraging people and relationships to redesign 1) its operations and technology strategy, and 2) its product design.
Operational and Technology Strategy
To net it out, there's no question that this process enforcing company has gone back to the drawing board and come back with a singular focus: build together with people centric ecosystems. Partners, Customers and Employees. You sense clarity on a number of fronts –  sizing up the opportunity and execution path, frank recognition of its challenges in front of partners, bloggers and media and customers, it's commitment to collaborative innovation, and more agility with respect to how it develops it's products.
Most significant for me, was instilling a renewed sense of purpose for its employees. SAPPHIRE 'veterans' such as Vinnie Mirchandani had high praise for the event. In the context of fresh promise and tangible steps to move SAP forward, Dennis Howlett considered the content at this SAPPHIRE to be the best in 14 years (review here). The new leadership also embraced skeptical, critical feedback, extending a hand to those who have taken the time to express tough love.
In terms of technology strategy that will permeate most of its products and how SAP does business, global CIOs the world over will be hopeful of the commitments made here around technology excellence – in-memory and real time, virtualization, separation of user experience and business logic (more below) and a gradual move toward iterative design and innovation to replace outdated sequential multi year release cycles. Consider CTO, Vishal Sikka's explanation of how SAP got a bunch of developers to build hundreds of mobile apps in just under 6 weeks. That's agile from any company, let alone a global 50,000 employee, multi-national organization such as SAP.
Moving on to Products
Particularly striking to me was how SAP is now separating business logic from user experience, as described by Co-CEO, Jim Hagemann Snabe. They understand that end customers expect new, engaging ways to work as we move from the data centric web to the interaction web. As James Thomas, an executive in the BI group, summed up the experience design principle:

The devil is certainly in the (execution) details but the idea that enterprise software can offer hip-huggingly modernized experience design we see in consumer software, is extremely compelling.
As we described in our Enterprise 2.0 Whitepaper (summary post by Oliver Marks)  on Performance Acceleration, the consumer web and broadband have led to the 'me" web in our consumer lives where data, engagements and content converge around the participant. It's refreshing to see the enterprise understand the implications of this shift and begin the transition, away from the application centered user experience.
As you consider the strategic implications and enabling technology infrastructure that will power people centered, collaborative 21st century enterprises, SAP realizes that its core asset is being an enabler of critical customer, employee, partner and supplier processes for its customers. In principle, that positions the company extremely well to power in-context collaboration around business events.
Unfortunately, that's where SAP missed the real opportunity to truly revolutionize business process facilitation in this first iteration of Business By Design. In speaking with customers and SAP executives the sense I got was that Business ByDesign (ByD) is a lighter weight rendition of SAP's on premise suite. I sought comments from Paul Greenberg, ZDNet blogger and author, and someone who intimately understands process: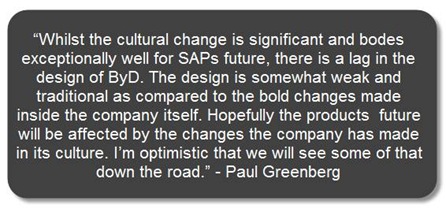 ByD enters a market that has already seen in-memory, lighter weight ERP offerings designed for the mid market and SMB.
The missed opportunity for me is this: Business Process Automation has not really seen "back to the drawing board" re-thinking in well over two decades. Since the early iterations of process automation, we've seen very useful but incremental improvement in how we transact and enforce process. But somewhere along the road we began to interchange business activity loops with how our ERP laden software enforced process completion. The reality is that in this day and age, customer expectations around engagement, and the opportunity to extract more from partner and supplier relationships have changed a lot since that original process automation design. And without question, at an accelerated pace in the last 36 months with the advent of new collaborative concepts and expectations on how people can work together to enrich business outcomes.
SAP has the chance to re-think how discrete business activities need to be conducted in the 21st century and what the optimal blend of process, engagement and content access truly supports today's business needs. Customers opine openly on the consumer web and are looking for expert advice, beyond marketing, when they engage with businesses. Channel Partners want to do business with manufacturers who don't just build good products, but those that make it easy to administer, sell and service the end customer. Suppliers who are getting commoditized, in reality, have critical component-level / raw material knowhow that can help them differentiate themselves as strategic partners to their customers. All of these examples require injecting some level of engagement and collaboration, alongside today's largely 'transactive' and asynchronous data sharing enterprise process design.
Whilst I clearly heard a focused interest in adding collaboration to process, my fear is that collaboration and people engagement is being treated as a bolt on to age old process automation software. We see a glimmer of hope in StreamWork (which I think is a superb start towards collaboration in context), but it remains to be seen whether SAP has the chutzpah to truly 'untether' itself from a process first, engagement second mindset.
Relationships bring Agility
The good news is that its commitment to a people centric operational design and agile development processes can overcome this. As I said earlier, the most important objective at this time was to re-vitalize its relationships and sense of shared purpose with employees, customers, partners and community participants. And the company achieved this in spades. This new operational design, if executed correctly, will earn the markets patience as SAP tries to methodically expresses these new people centric, collaborative qualities in its products.
p.s. there's a lot of  awesome content out there and I'll do another post summarizing what I liked best. But for starters, check out Tom Raftery's Photos on Flickr, here.
Subscribe to this Blog via Email
---
Posted On: May 20, 2010
Posted In:
Post Details