Rajeev Motwani passes away June 5, 2009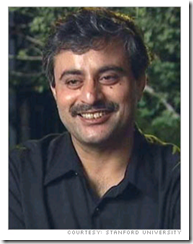 Just heard about the passing of Professor Rajeev Motwani. Professor Motwani was a   household name in Silicon Valley, most notably for giving early guidance to Larry and Sergey and investing in Google. I had the pleasure of meeting him a few years back and I distinctly remember how gracious he was with his time and perspectives. Om puts it best in his post on GigaOM "There wasn't a startup he didn't love".
He listened intently and I still remember his amazing ability to process a lot of information in a few minutes and provide extremely pointed feedback. You knew he was engaged and interested. I'm sure he's touched a lot of people in Silicon Valley more recently and he will be missed.
If you never had the opportunity to cross paths with him, take a look at the twitter stream right now and you'll get a sense of how many people he touched.
My deepest condolences to his family and to those close to him. Wish you all the strength during this tough time.
Rest in peace. You will be missed.
Update: Since the writing of this post, Techmeme has some additional overage including 2 very touching posts by and Sergey Brin and David Hornik.
Subscribe to this Blog via Email
---
Posted On: June 5, 2009
Posted In:
Post Details